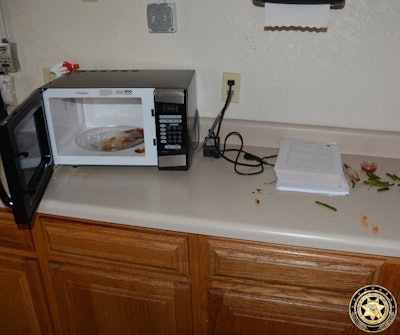 A Florida woman has been arrested after she broke into the Boynton Beach Police Department, took two ready-made chicken and asparagus meals from the fridge, heated one of the meals in the microwave, and then left.
According to Newsweek, Officers Darin Hederian and Gregg Koch arrived at the station at around 0830 hours to find that the window leading to the kitchen area had been broken.
They discovered a wallet belonging to 29-year-old Yvelande Jean-Pierre. They reviewed surveillance video and found that Jean-Pierre had broken the window to gain access to the building.
Police arrested Jean-Pierre on Wednesday, charging her with burglary to an unoccupied structure, theft and criminal mischief.
The department had some fun with the incident on Twitter, posting a picture of the department galley in disarray and saying, "1st mistake - breaking into our substation. 2nd - eating Agent Berben's chicken & asparagus. 3rd - leaving her ID behind."