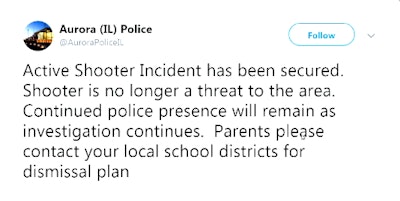 A man with a pistol reportedly opened fire inside the plant of the Henry Pratt Company in Aurora, IL, around 1:30 p.m. Friday afternoon. Five civilians are dead, five City of Aurora police officers were shot and wounded, and multiple other civilians were injured in the active shooter situation, reports ABC7 Chicago. The gunman is also dead, police said.
Multiple law enforcement agencies—local and federal—reportedly responded to the incident. Police said two of the four first officers on the scene were fired upon immediately. More officers arrived as backup and were also fired upon.Police said five officers were shot and injured. Police said they found five victims dead inside the building. More civilians were injured in the shooting.
Officials have said how many citizens, in total, were injured or what their conditions are. The officers who were wounded are in stable condition, according to City of Aurora representative Clayton Mohammed.
A SWAT force entered the 29,000 square foot building and found the gunman, identified as 45-year-old Gary Martin. Police said the officers engaged Martin in gunfire and he was killed. Police believe Martin was an employee of Henry Pratt. Police said his motive is not yet known.
John Probst, a Henry Pratt employee who escaped the building, told ABC7 he saw a man holding a pistol with a laser scope. He said he recognized the shooter as a coworker. Probst said he saw other coworkers injured and that the shooter was firing indiscriminately.
The Henry Pratt Company makes valves for drinking and waste water facilities. The plant is located in what is described as a semi-industrial section of Aurora.