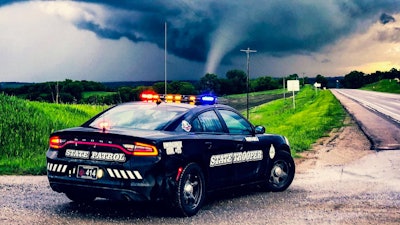 The Nebraska Highway Patrol posted an image to its Facebook page of a massive tornado with a patrol vehicle in the foreground of the photo.
The post said, " This tornado crossed Highway 75 just south of Dawson tonight in Richardson County. ‪Trooper Zost had this incredible view. ‪He reports it stayed in a field so not likely much damage to structures, if any. "
Dozens of tornados have swept across the Midwest in recent days, wreaking havoc in places like Texas, Oklahoma, Louisiana, Missouri, Kansas, and Arkansas.