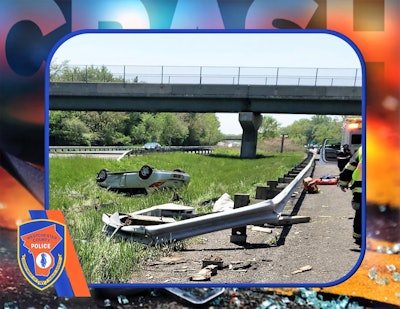 An off-duty officer with the Westchester County (NY) Police Department was driving on an interstate highway when he noticed a vehicle being driven erratically and very slowly in the left lane.
Officer Michael Fox observed the female driver to be in some sort of medical distress just before the vehicle left the roadway and flipped over in the median.
The agency posted on Facebook, "Mike immediately stopped and ran to help. He and another Good Samaritan kicked out the car's rear windshield and climbed inside to help the driver and her two children. All were restrained in their seat belts. Mike extricated one of the children and handed her off to a registered nurse who had also stopped to help. He then was able to remove the other child, who was bleeding heavily from injuries to his face. Next, Mike and the Good Samaritan cut the driver free from her seat belt and removed her from the car."
As New York State Police and local EMS and Fire were responding, Mike helped render aid and stabilize the victims until EMS took over medical care. He was also treated for cuts he sustained during the rescue effort.
The Facebook post concluded, "In this recent incident, seat belts definitely saved this family from more serious injury. We wish them all a speedy recovery."