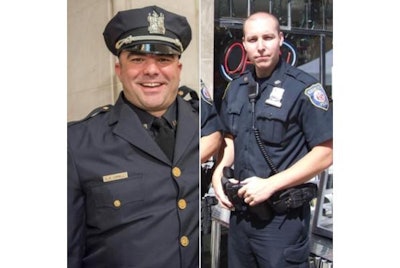 Two officers with the Albany (NY) Police Department are being hailed as heroes for rescuing a three-year-old boy from a structure fire on Sunday.
The agency posted on Facebook, "Early this morning, Sergeant Christopher Cornell and Police Officer Joshua Sears were among a group of #Albany police officers who responded to a working structure fire on Third Avenue in the South End. Upon their arrival, the officers were met by a frantic woman who explained that her three-year-old son was still inside on the third floor."
The post continued, "Police Officers Nick Schuler and Tim Adalian attempted to make entry through the front door but were unable due to smoke and fire conditions. Sergeant Cornell and Officer Sears made their way to the rear fire escape where a group of neighbors told them they could hear the child crying inside of the smoke filled building. Both Sergeant Cornell and Officer Sears climbed the fire escape and eventually made entry into the apartment where they could hear the child crying but could not see him due to the smoke condition. Shortly after entering, Sergeant Cornell found the child not far from the door and was able to hand him off to neighbors outside."
The child was transported to a nearby hosptial where he is expected to be OK.
Both Sergeant Cornell and Officer Sears were also treated for smoke inhalation and released.
"Great job by all those involved in this incident, especially the neighbors who worked with officers to bring this child to safety," the post concluded. "A true display of police-community collaboration."