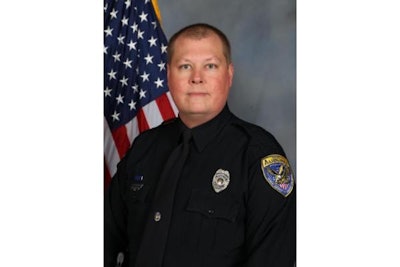 The name of an Auburn, AL, police officer who was shot and killed Sunday night and the names of two other officers who were wounded were released Monday morning.
Auburn Mayor Ron Anders Jr. identified the officer who died in the line of duty as veteran Officer William Buechner, pronounced Beek-ner. He served on the force for 13 years, WSFA reports.
Officer Webb Sistrunk, an accomplished K-9 officer, is still being treated at a hospital. He's been with the department since 2011. Officer Evan Elliott, a 2018 addition to the Auburn police force, was treated and released. They are both expected to recover.
Auburn police said the officers were responding to a domestic disturbance call, and when they arrived on the scene they were fired upon by the suspect.
The suspect, Grady Wayne Wilkes, 29, of Auburn, was taken into custody around 7 a.m. Monday within a mile of where the shooting happened. The capture came after citizens reported suspicious activity.
Wilkes is now charged with capital murder, three counts of attempted murder, and second-degree domestic violence and is being held without bond. Lee County District Attorney Brandon Hughes said his office will pursue the death penalty.