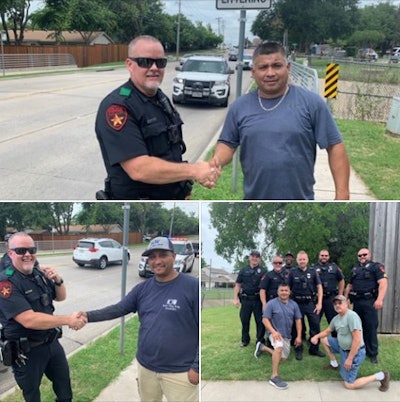 An officer in Texas got an assist from a couple of Good Samaritans—one of whom plays rugby and is adept at making an open-field tackle—in taking down a suspect last week.
The Lewisville Police Department posted on Facebook pictures of officers and the three civilians who helped them apprehend a man suspected of stealing a vehicle and then setting off a two-hour-long search of the area.
"Officer Jeff Carey was on patrol over the weekend when he saw a guy rummaging through a car. Could be NBD, right? Except dude saw Ofc. Carey and hightailed it out of there. Turns out... the car was stolen from someone in our community. After about two hours of hide-and-seek, guess who Ofc. Carey found? As he got out of his patrol car, our suspect started running again," the post said.
The post continued, "Michael Barrera (pictured in blue with no hat) saw what was going on and started chasing the guy. Another man in blue (whose name we unfortunately did not catch) also helped chase the suspect. Fun fact: Mr. Barrera plays rugby. So he runs fast. And tackles. Two things our suspect learned the hard way. Mr. Barrera was able to detain the suspect until our officers got to them."
The post concluded, "Through all of this, George Barrera (in green) stood guard at Ofc. Carey's vehicle. Thanks to the help of these three Good Samaritans, we were able to recover a resident's stolen vehicle and arrest our suspect, who now faces several charges. We believe in community policing and these three men exemplify how working together can help keep our community safe. Thank you for being our other Brothers in Blue and our Green Guardian."