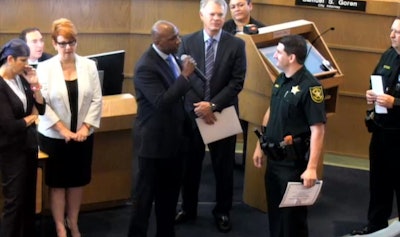 An officer with the Broward County (FL) Sheriff's Office was in attendance at a Tamarac City Commission meeting to receive an award for superior service to the community but got a tongue-lashing from one of the elected officials instead.
According to NBC News, after Deputy Joshua Gallardo and others received honors for various acts of valor and heroism, Commissioner Elberg "Mike" Gelin called Gallardo back to the floor so he could say something to him.
"It's good to see you again. You probably don't remember me. But you're the police officer who falsely arrested me four years ago," Gelin says in a video obtained by NBC Miami. "You lied on the police report. I believe you are a rogue police officer, you're a bad police officer and you don't deserve to be here."
Gallardo arrested Gelin in July 2015 for resisting arrest/obstruction without violence—Gelin was not a city commissioner at the time, and the charges were dropped.