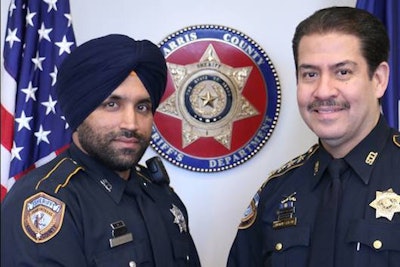 A Harris County, TX, deputy who was shot while conducting a traffic stop Friday has died at the hospital, according to the sheriff.
Sheriff Ed Gonzalez said Deputy Sandeep Dhaliwal "was unable to recover from his injuries."
A 10-year veteran, Dhaliwal joined the Harris County Sheriff's Office in 2008 as a detention officer and became a deputy four years later, reports the Houston Chronicle.
In 2015, Dhaliwal made history when the HCSO allowed him to keep his beard and wear a dastaar (turban) while on patrol — a requirement of his Sikh religion. He became the first HCSO deputy to be allowed to wear a turban and articles of the Sikh faith, while on duty.
I'm sad to share with you that we've lost one of our own. Our @HCSOTexas was unable to recover from his injuries. There are no words to convey our sadness. Please keep his family and our agency in your prayers. #HouNews

— Ed Gonzalez (@SheriffEd_HCSO) September 27, 2019
The shooting happened in the 14800 block of Willancy Court near West Road, reports KTRK-TV.
"One of our @HCSOTexas deputies has been shot while conducting a traffic stop," Gonzalez tweeted just before 1 p.m.
Gonzalez originally stated the deputy was critically injured and was transported by Life Flight.
One man was seen being taken into custody. He was handcuffed and his hands were bagged for evidence.
Shortly after that, Sheriff Gonzalez tweeted that a possible suspect was detained. They believe the scene is "contained" and poses no current threat to the community.
During the sheriff's first media availability since the shooting, Gonzalez said someone approached the deputy from behind during his stop and shot him multiple times.
The sheriff said the suspect "basically just shot him in a very ruthless, cold blooded way."