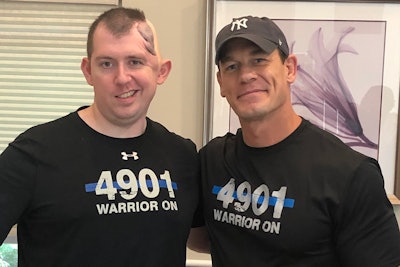 WWE and action movie star John Cena paid a surprise visit to the home of a Colorado Springs police officer who suffered a severe gunshot wound to the head in 2018.
Officer Cem Duzel was responding to a call of shots fired when he came under the fire of a gunman. A suspect, 31-year-old Karrar Noaman Al Khammasi, has been charged with the crime. Al Khammasi has pleaded not guilty to the charges.
Following the shooting, the agency began posting pictures of a figurine of Cena in various locations around Duzel's hospital room and then the agency headquarters because Cena is Duzel's hero.
The agency posted images of the visit on their Facebook page late last week, saying, "Remember all those posts of a John Cena figurine showing up around the police station, encouraging the WWE star to visit Officer Duzel in person? Well, it finally happened! Earlier today, John Cena, who is Officer Duzel's hero, visited him and his family at their home in New York!"
The post concluded, "Thank you to everyone in our community who helped make this happen for Officer Duzel, and thank you to John Cena for supporting our hero along his journey! We are amazed, humbled, and beyond thankful."