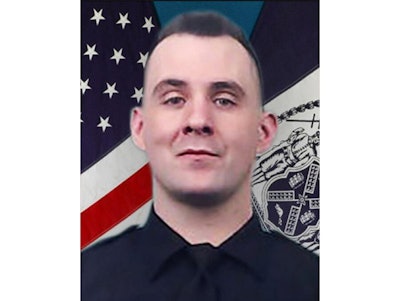 An NYPD officer was fatally shot early Sunday during a desperate, hand-to-hand struggle with an armed suspect just after midnight on the grounds of the Edenwald Houses in The Bronx. The suspect was also killed.
Officer Brian Mulkeen, 33, a six-year veteran of the department, did not survive three gunshot wounds, Chief of Department Terence Monahan told reporters at Jacobi Hospital, where doctors had worked to save his life.
Sources said Mulkeen had been shot in the head, chest and legs as he and the suspect wrestled on the ground in what appears to have been a gun grab attack, the New York Post reports.
The fallen officer's last words, recorded by his body-camera as he wrestled on the ground with the suspect, were "He's reaching for it! He's reaching for it!" Monahan told reporters.
The suspect, too, was fatally shot. "Five officers at the location fired their service weapons, striking the man," Monahan said.
The deadly encounter happened just after 12:30 a.m., as Mulkeen and two fellow plainclothes officers with the Bronx Borough Anti-Crime Unit, which is based in the nearby 47th Precinct, hopped out of their vehicle to speak with the suspected gang member, Monahan said.
The 27-year-old gunman was on probation until 2022 for a narcotics-related arrest from last year, the chief said, and had a burglary conviction from Rockland County. He was pronounced dead at the scene.