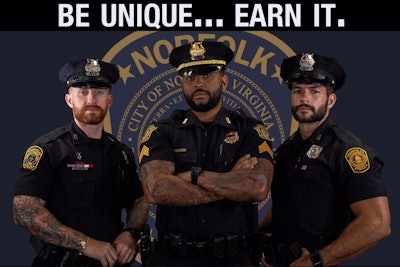 The Norfolk (VA) Police Department announced on Monday that it is ending its restrictions on full facial hair and visible tattoos.
According to ABC News, the loosening of the rules is a part of a larger effort to help in recruiting and retention of the next generation of police officers.
The agency said in a statement, "We constantly assess the way in which we serve and protect; part of that is also addressing dress and personal appearance. We will no longer allow these personal style choices to impede our hiring practices, which sometimes prevents the most qualified candidates from a career in public safety."
Beards must be trimmed, and tattoos that are deemed by the department to be "extremist, indecent, sexist, or racist" remain prohibited.