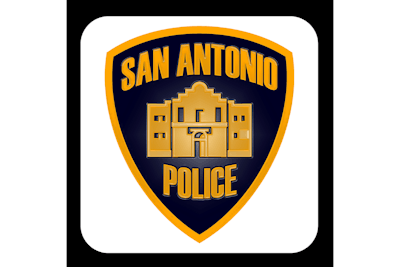 A San Antonio, TX, police officer was seriously injured when he was pinned between a vehicle and a guardrail while deputies were investigating the outcome of a police pursuit by the Bexar County Sheriff's Office on Interstate 35 Thursday afternoon, reports the San Antonio Express-News.
According to San Antonio Police Department Chief William McManus, Officer Ralph P. Delgado Jr., an 11-year veteran with SAPD, was undergoing surgery at San Antonio Military Medical Center Thursday night. Delgado, whose father is a retired member of the force, was transported there by patrol car after he was struck before 7:40 p.m.
The chief said Officer Delgado was trying to set up road flares to divert traffic around the crash when another car hit Delgado's cruiser, pushing it into him and pinning his leg between the car and the metal guardrail, and his leg was mangled.
Delgado was rushed to the hospital and has undergone one surgery already. McManus said the officer is recovering and in surprisingly good spirits; however, he will require several more surgeries.
McManus added that the injury could potentially be career-ending for Delgado.
The accident involving the officer occurred after the conclusion of a police pursuit that began before 6:30 p.m. when Bexar County (TX) Sheriff's Office deputies attempted to stop a pickup truck, officials said.
Sheriff Javier Salazar said deputies were patrolling the area when they saw the pickup committing several hazardous traffic violations, and the driver refused to stop, initiating a pursuit.
The pickup took so much damage from ramming vehicles during the pursuit that it stopped on I-35. The driver and passenger both reportedly attempted to flee on foot but were apprehended.
Discussions over pursuit policies have started between the San Antonio Police Department and Bexar County Sheriff's Office in response to the chase leaving the SAPD officer hospitalized with serious injuries, the San Antonio Express-News reports.
"Am I angry about it? Yes I am; I am very angry," said Chief William McManus during a news conference Friday.
SAPD's pursuit policy is to only chase vehicles with violent felonies or misdemeanors that involve firearms, said McManus. On Thursday, the chief said he would not have authorized the chase.
"BCSO's policies are not that restrictive and last night's pursuit was an indication of that," he said.
A television crew from "COPS" was riding with the Street Crimes Unit when the incident occurred, officials said.
When asked by reporters if he believed the presence of the TV crew played a role in the continuation of the pursuit, McManus said yes.