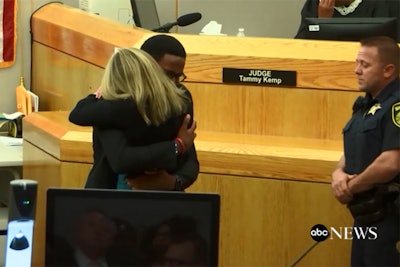 In an extraordinary act of faith in God, the younger brother of Botham Jean—who was reportedly shot and killed by an off-duty Dallas police officer as he sat in his apartment while sitting on his couch eating ice cream—took to the witness stand during the sentencing hearing to forgive that former officer and urge her to give her life to Christ.
According to ABC News, Amber Guyger was found guilty earlier in the week of murdering Botham Jean in 2018, and after Guyger was sentenced to 10 years in prison, Brandt Jean spoke in the courtroom.
"I love you just like anyone else and I'm not going to hope you rot and die," Brandt Jean told Guyger.
"I personally want the best for you," he said. "I wasn't going to say this in front of my family—I don't even want you to go to jail. I want the best for you because I know that's exactly what Botham would want for you."
He continued, "Give your life to Christ. I think giving your life to Christ is the best thing Botham would want for you."
He spoke for several minutes and then asked Judge Kemp if he could give Guyger a hug—a request the judge granted.
As they embraced Guyger openly wept.
Moments later, Kemp spoke to Guyger privately and handed her a Bible.