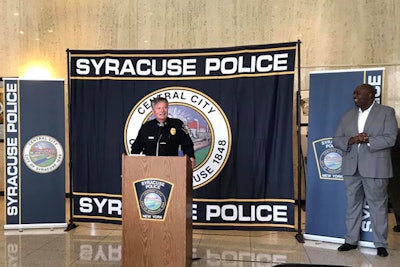 A captain with the Syracuse (NY) Police Department has marked a major milestone—50 years in service to his community.
According to ABC News, Captain John Brennan—who has been with the SPD since he was appointed as a trainee in October 1969—was honored during a ceremony at city hall on Monday.
During his time with the department he has received more than 100 commendations.
Syracuse Police Chief Kenton Buckner called Brennan "hands-on" and "engaged" in his work.
The agency said on Facebook, "Captain Brennan we salute you, and the Syracuse Police Department and City of Syracuse owes you a debt of gratitude for your 50 years of dedicated service. Not even missing a day of work for a sick day."
Brennan said during the ceremony that he is honored to put on his uniform every day.