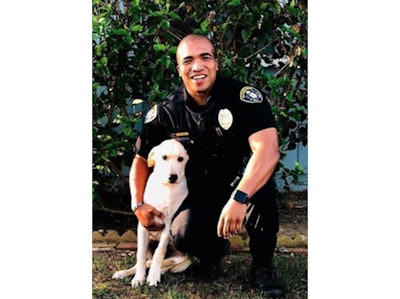 An officer with the San Diego Police Department who discovered a dog in the back of a vehicle reported as stolen late last month has adopted the animal as his own.
According to KTLA-TV, Officer Andre Thomas was still mourning the loss of his beloved pet Melakai—a yellow Labrador—who died in March after spending ten years at the officer's side when he came upon the stolen vehicle he discovered in the back seat a frightened yellow Lab.
Thomas took the dog to a local Humane Society for the owners to reclaim, and when no one stepped forward, he adopted the pup, naming him Victor.