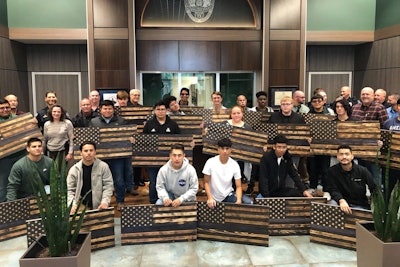 Students attending Waxahachie High School presented 98 handmade wooden "Thin Blue Line" flags to their local police department in a show of respect for the officers who work there and solidarity with the department.
The agency posted on Facebook, "Junior and Senior students from the Waxahachie High School Construction & Building Trades classes delivered 98 'thin blue line' wooden flags to the Waxahachie Police Department yesterday—one for every officer in the department."
The post concluded, "We are proud of these students' craftsmanship and hard work and thankful for the service of our wonderful police department!"
Local citizens commented on the post, praising the students' action.
One person said, "With young people like this, America will be in good hands."
Another said, "Great students & educators to support the LEOs."