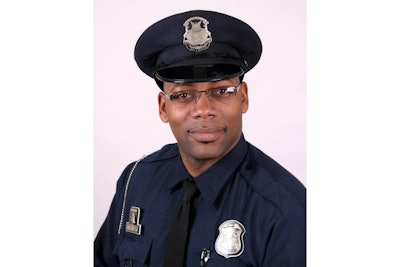 One officer with the Detroit Police Department was killed and another wounded while responding to a home invasion call Wednesday night.
Officer Rasheen McClain, a 16-year veteran of the Detroit PD was killed by a single gunshot wound to the neck.
Another officer, Phillippe Batoum-Bisse, was shot in the leg. Batoum-Bisse is a two-and-a-half-year veteran of the Detroit PD.
Detroit Police Chief James Craig said that when McClain and Batoum-Bisse arrived at the scene, the occupants of the home told them a man was inside with a gun and they ran out. The man was reportedly looking for his girlfriend.
McClain requested additional backup. Two more officers arrived and they entered the home through the front door. The officers cleared the upper level and main level of the home and then began to move down into the basement to locate the suspect.
They cleared the upstairs of the house and were coming back downstairs when, police said, the suspect opened fire on them with a rifle. He fired two shots, one hit McClain in the neck, the other hit Batoum-Bisse in his left ankle, the Detroit Free Press reports.
Those two officers did not return fire, the chief said.
However, the two other officers and the suspect later engaged in a gunfight. The suspect was apparently hit by gunfire and ran.
"It was very clear this suspect was trying to bait the officers and had a presence of mind," Craig said. "He wanted suicide by cop."
The 28-year-old suspect was on parole at the time of the shooting, WXYZ reports. He was released in March.
His name has not been released. Officials said he has a violent criminal history with a string of convictions including assault and weapons-related crimes. Two women also appear to have sought restraining orders against him.