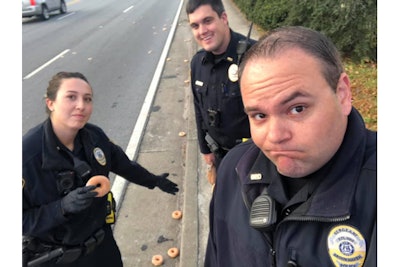 Officers with the Brookhaven (GA) Police Department were called when a citizen reported that a Krispy Kreme donut delivery truck had mistakenly ejected a number of glazed donuts on the side of the road.
The agency posted images of what it called a "Donut Disaster" on its Facebook page, stating that while their response time was stellar, they were unable to beat the "five-second rule."
The post concluded, "We are deeply saddened to report that the donuts were a total loss. As you can imagine, this is a very difficult time, and the senseless loss of these delicious pastries has deeply affected all of our officers. We ask that you keep our department in your thoughts and prayers as we mourn this terrible moment."
The post has more than 1,400 comments and nearly 10,000 shares.