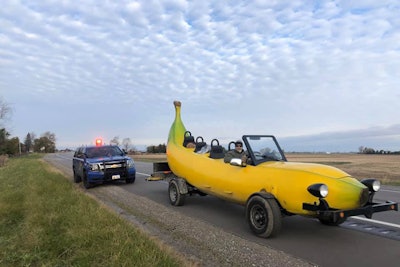 A trooper with the Michigan State Police saw a highly unusual sight in late October that has gone viral on social media nearly a month later.
According to the Detroit Free Press, Trooper Bill Strouse saw a vehicle that looked like a giant banana traveling down a rural road and decided to effect a traffic stop—not for a violation, but to express appreciation for the craftsmanship of the car.
The agency said on Facebook, "Trooper Strouse was patrolling near Adrian when he saw Steve Braithwaite driving his banana car down the highway. Braithwaite was anticipating a citation, but after Trooper Strouse checked out the headlights, brake lights and taillights, he returned the driver's license, along with a $20 bill for his travels."