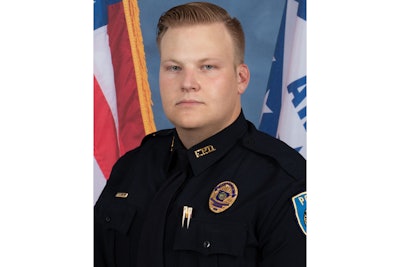 An officer with the Fayetteville (AR) Police Department was shot and killed as he sat in his patrol vehicle outside of the police station on Saturday night.
According to ABC News, officers inside the station quickly responded to the sound of gunfire outside and encountered an armed man. They exchanged gunfire with the suspect—identified as London Phillips—who was killed in the gunfight.
Officers continued to investigate and soon discovered Officer Stephen Carr in his patrol vehicle suffering an undisclosed number of gunshot wounds.
Officers and paramedics attempted to provide life-saving aid, but Carr succumbed to his wounds.
Fayetteville Police Chief Mike Reynolds said there seems to have been no motive at all and it "appears the suspect came into the back parking lot and just executed my officer."