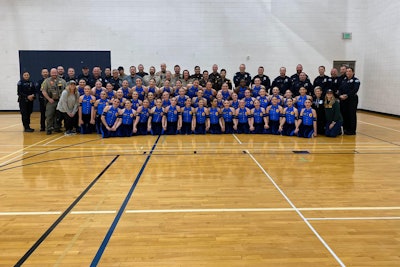 Performers with the Syracuse (UT) High School drill team appeared on the school's basketball court during a recent halftime dressed in costumes that resembled police uniforms and presented a dance that they said was in honor of law enforcement.
The Davis County Sheriff's Office posted a video of the routine on Facebook, with the comment, "Thank you to Syracuse High School Home of the Titans/Syracuse High Dance Line for their #ThinBlueLine performance tonight."
Members of several agencies—including the Davis County Sheriff's Office, Clearfield Police Department, the Utah Highway Patrol, Syracuse Police Department, and Centerville Police Department—were present for the performance.
Cristina Powers—who coaches the dance team—is married to a trooper with the Utah Highway Patrol.