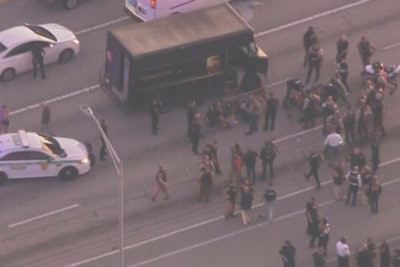 Four people were killed when police with multiple agencies exchanged gunfire with two armed robbery suspects who attempted to make a getaway in a stolen UPS truck on Tuesday.
According to CNN, two gunmen, the UPS driver, and a bystander were all declared dead after the two alleged robbers led dozens of police vehicles on a pursuit that began in Miami-Dade County and ended 20 miles away in Broward County.
The truck eventually got mired down in heavy freeway traffic and came to a stop. At least 20 officers can be seen from helicopter video approaching the vehicle, with gunfire soon thereafter breaking out.