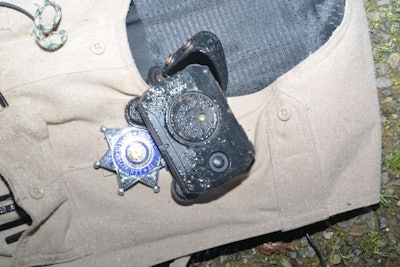 Late Friday night, Santa Clara County Sheriff's Deputy Sukhdeep Gill was on routine patrol near the Uvas Reservoir when he pulled his SUV over and got out to take a look around.
Not long after, he noticed a car approaching where he was standing on the side of Uvas Road, in unincorporated Morgan Hill. As it got closer, its headlights suddenly vanished.
Four gunshots quickly followed, with one round hitting Gill squarely in the chest.
That one bullet hit Gill's body-worn camera, which itself was backed by his standard-issue body armor. Dazed but still alert, he fired two rounds from his service pistol at his now-fleeing attacker, the Mercury News reports.
The deputy is now recovering from his injuries in what Sheriff Laurie Smith called an "ambush" during a Monday news conference.