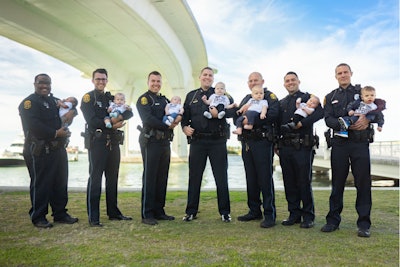 The Clearwater (FL) Police Department announced on social media that its extended family mushroomed last year with the arrival of 13 new babies in 2019.
The agency said on Facebook, "Oh baby, there's been a baby boom at the Clearwater Police Department in 2019, the department welcomed 13 new babies into the CPD family. Nine of the 13 officers and their new bundles of joy recently gathered for pictures in their matching "Daddy Is My Hero" onesies.
The post continued, "Congratulations to Officer Diaz, Officer Hoxie, Officer Hurt, Officer Lightfoot, Officer Maser, Officer McCann, Officer Penna, Officer Robinson and Officer Yeates!"
The post was accompanied by nearly two dozen photos of the officers proudly holding their newborns.
Citizens responded with comments such as, "I just saved this picture to my phone" and "This is priceless!"