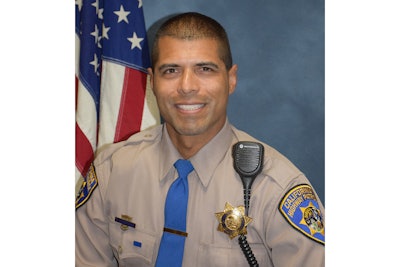 The National Law Enforcement Memorial and Museum has announced its January 2020 Officer of the Month. California Highway Patrol Officer Randy Rodriguez has been named January's Officer of the Month. Assigned to the Central Los Angeles area, Officer Rodriguez responded to a call about a hearing impaired woman causing a disturbance at the Department of Motor Vehicles (DMV).
Officer Rodriguez recognized the woman's frustration was due to her inability to communicate with the DMV staff. Using American Sign Language (ASL), he was able to determine that the woman was at the DMV for an ID card transaction. Officer Rodriguez also learned the woman did not have enough money to pay for an ID card, so he used his own money to pay for the transaction, enabling the woman to obtain her ID card.
His interest in ASL stems from his childhood. Officer Rodriguez developed an interest in ASL while playing little league baseball when he noticed a hearing impaired child communicating via ASL with his father on how to hit the ball while he was at bat. As an adult, Officer Rodriguez has used his ASL skills both on and off duty.
"Officer Rodriguez's actions exemplify what it means to be a law enforcement officer," said National Law Enforcement Officers Memorial Fund CEO Marcia Ferranto. "Officers are there to help. They wake up every day and answer a call to service, whether that's as dramatic as rescuing someone from a life or death situation, or as simple as helping another human being in this big community in which we all must live and work together. I applaud Officer Rodriguez for his kindness and humanity in helping this woman with a task most of us would take for granted as a simple one, but which proved problematic for someone with a hearing impairment."
Located in the nation's capital, the National Law Enforcement Officers Memorial and Museum is a nonprofit organization dedicated to honoring the service and sacrifice of America's law enforcement officers. The Officer of the Month award program began in 1996 and recognizes federal, state, and local officers who distinguish themselves through exemplary law enforcement service and devotion to duty. The January award was made possible by the sponsorship of the Police Unity Tour.