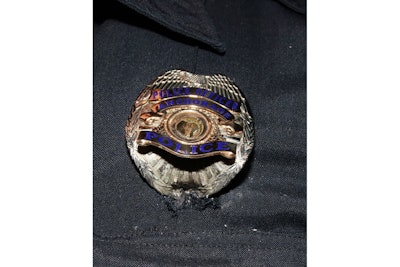 An Anchorage, AK, police officer was shot in his badge early Sunday morning during a traffic stop and gunfight near one of the city's airports.
The bullet hit Officer Jason Cusack's badge and was stopped by his body armor.
The suspect was killed in the exchange of fire with officers, the Anchorage Daily News reports.
Two officers stopped a vehicle for a traffic violation near Merrill Field airport around 3:30 a.m., Police Chief Justin Doll said in a news conference early Sunday morning. A male passenger in the back seat of the vehicle fired shots at police, Doll said.
None of the other four people in the vehicle were injured, Doll said.
"Today we are just extremely relieved that our officers' training and equipment allowed them to go home and be with their families and suffer only minor injuries as a result of this—very, very relieved that we don't have an officer that's more seriously injured."