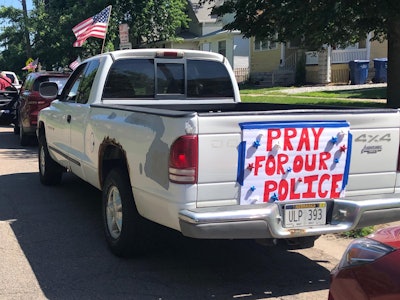 A group of residents in Lincoln, NE, drove vehicles and rode motorcycles in a convoy that traversed the city on Saturday to demonstrate their support for law enforcement officers who serve their community.
According to the Lincoln Journal-Star, the show of support was organized by Lincoln resident Fanchon Blythe and a group of friends in the wake of anti-police protests nationwide.
Dubbed the "Great Nebraska Unity Patriot Ride," the effort was aimed at showing local area law enforcement agencies that many people in the community support them and the work they do.
Blythe added that she and the other organizers intend to continue leading rides in support of law enforcement in the future.
Caravan in support of law enforcement stars driving around Lincoln #Nebraska. pic.twitter.com/TQyE5GKmmO

— Fred Knapp (@fredmknapp) June 13, 2020