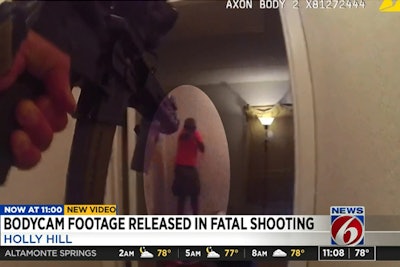 The Daytona Beach (FL) Police Department has released body-camera video of a fatal officer-involved shooting during which an officer was shot in the chest and saved by his ballistic vest.
According to ClickOrlando.com, police say a group of officers were responding to an anonymous tip that a suspect wanted for attempted murder was present.
Officers made entry into the apartment and encountered the subject—identified by authorities as Michael Harris—who quickly opened fire, striking one officer in the ballistic vest he was wearing, police say. The officer was knocked down briefly but got back up and returned fire. The gunman was killed in the gunfight.