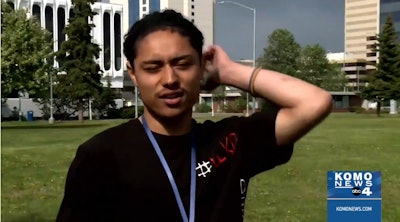 An Alaska man has been charged in connection with an incident earlier this week in which protesters tried to set fire to the Seattle Police Department's East Precinct building after using a fast drying concrete compound to try and lock the building's occupants inside.
Desmond David-Pitts, 19, was charged with arson during a hearing in federal court in which he appeared via video conferencing. The judge appointed a public defender to represent David-Pitts, who is facing a prison sentence of up to 20 years and a fine of up to $250,000, KOMO News reports.
The judge declined to set bond for David-Pitts, who is scheduled to appear next in court on Sept. 1. He is the fourth person to face charges after the fire incident Monday at the police building.
Law enforcement officials said others captured on the surveillance video were seen using crowbars and cement-like materials to try to disable the door next to the sally-port to prevent officers from exiting the building. David-Pitts was identified less than an hour later in the crowd because of the pink camouflage pants he was wearing, authorities said