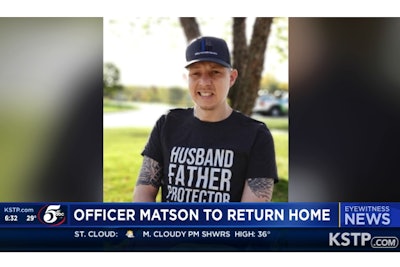 Citizens from around the southern Minnesota region gathered to welcome home an officer who was shot in the head in January, and has been undergoing treatment and rehabilitation at Nebraska medical facility.
According to CBS News, 33-year-old Arik Matson was among a group of officers responding to a report of a suspicious person when they encountered a suspect—identified as 38-year-old Tyler Robert Janovsky—who opened fire, striking Matson in the head.
Janovsky—who was wanted on drug charges—pleaded guilty to the shooting and is expected to be sentenced to 35 years in prison.
Brian Peters—executive director of the Minnesota Police and Peace Officers Association—told reporters, "This guy's a hero. He's overcome so many obstacles since the incident occurred."