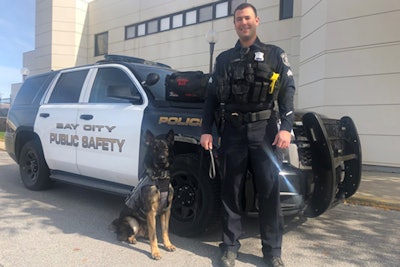 Officers with the Bay City (MI) Police Department are happy to welcome a new partner—K-9 Loki—to the ranks.
The agency posted on Facebook that Loki and Corporal Paul Cairns made a visit to City Commissioners during a regular meeting to introduce themselves and give an update on their ongoing training, which is expected to be completed in November, after which the two will work with other Bay City Police to detect illegal narcotics and conduct other public safety duties.
Following the visit, Commissioner Jesse Dockett said, "We're really excited to have an additional officer on the force, a four-legged officer is super valuable."
Loki and the costs associated with his handler's training were donated to the department by an anonymous benefactor, said Patrol Operations Captain John Harned.