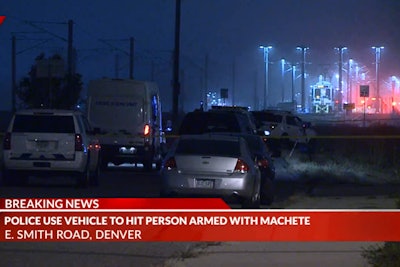 Officers with the Denver Police Department were forced to use at least one patrol vehicle to stop a rampaging assailant armed with a machete on Thursday morning.
According to Fox News, the Denver Police Department says a patrol officer used his vehicle to stop a machete-wielding assailant in the early hours of Thursday morning.
Reports indicate that the suspect was advancing toward officers "in a threatening manner" when an officer struck the suspect with his vehicle in order to disarm and take the suspect into custody.
No officers were injured during the incident, and the suspect—whose name has not yet been released—was arrested without further incident and transported to a nearby hospital for treatment of undisclosed injuries.
The officer who struck the suspect will be placed on administrative leave in compliance with agency policy.