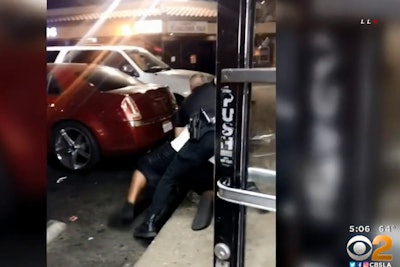 An officer with the San Bernardino (CA) Police Department reportedly shot a man who had produced a gun after the officer and the offender got into a scuffle outside a local liquor store late Thursday.
According to CBS News, the alleged offender got into a violent struggle with the officer attempting to place him under arrest. Police say the two went to the ground and wrestled for a time before the suspect—whose name has not yet been released—got up and drew a gun from his waistband.
The officer then fired at least three shots, striking the assailant.
The offender was transported to a nearby hospital.
It is unclear from initial reports if the officer suffered any injuries.