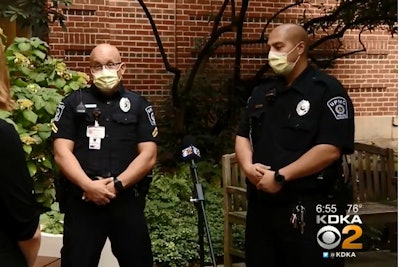 Two officers with the UPMC Police Department in Pittsburgh are being lauded as heroes for saving the life of a woman who was bleeding by applying a tourniquet and keeping her calm until other first responders were able to get to the scene.
According to CBS News, Officers Anthony Costa and Matthew Lisovich—who were at the time assigned to the Magee-Women's Hospital—noticed a female enter the facility holding her arm.
They went to her aid and discovered that she was badly bleeding, and both men sprung into action, applying the tourniquet and calling for further help.
They credit their training for their quick actions, but also shrug off the praise, saying that it was all part of what they signed up to do in service to the community.