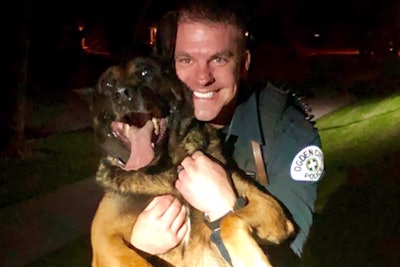 Officers with the Ogden (UT) Police Department are mourning the loss of a beloved K-9 after the dog struggled mightily against a debilitating disease.
The agency posted a heartwarming video to its Facebook page in memory of the dog, who had served with the department for six years.
The social media post read, "The Ogden Police Department is deeply saddened to announce the passing of K-9 Karma. He died following a months-long battle with a debilitating health condition."
The post continued, "He loved police work and excelled in every aspect of the position. He was a dedicated partner, friend, and—most importantly—family member. Karma spent his final moments surrounded by those who loved him. We are forever grateful for his dedicated service to our department and city."
The post concluded, "Rest in Peace, Karma. You will be missed by all."