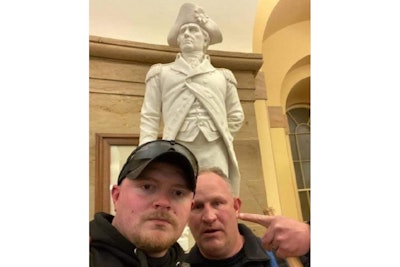 Federal authorities have charged two Rocky Mount (VA) Police Department officers in connection with their admitted presence inside the Capitol during the Jan. 6 riots.
A federal arrest warrant unsealed Wednesday charges officer Jacob Fracker and Sgt. Thomas "T.J." Robertson with knowingly entering a restricted building without authority to do so and knowingly engaging in conduct that disrupts government business. The warrant also charges Robertson and Fracker with engaging in disruptive conduct in the Capitol in order to interfere with a session of Congress.
In interviews with The Roanoke Times, Robertson has maintained he and Fracker did nothing illegal.
In a selfie that Fracker took inside the Capitol the men are standing in front of a statue of John Stark, a Revolutionary War officer from New Hampshire who is famed for having penned that state's motto, "Live free or die." Fracker is making an obscene gesture. Robertson is pointing at Fracker while holding a wooden object. Robertson wrote Wednesday that he was holding the pole of an American flag.