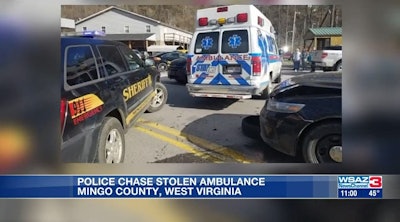 Three West Virginia deputies suffered minor injuries and their patrol vehicles were badly damaged during pursuit of an ambulance stolen in Pike County, KY, Friday morning.
Chief Field Deputy Allen Mounts of the Mingo County (WV) Sheriff's Office said the deputies were alerted by dispatch of a stolen ambulance around 9 a.m.
The man behind the wheel, deputies say, was Fed Blevins, 40, of Mingo County.
"The ambulance service has GPS on it, so they were tracking him," Mounts told WSAZ.
Deputies say Blevins was going about 80 to 90 mph during the chase, even on two-lane roads. Mounts said Blevins was also going into the opposite lane at high speeds into oncoming traffic.
Deputies caught up to Blevins around 10 a.m. at the intersection of state Route 65 and U.S. 52 in Naugatuck. Mounts said that's when Sgt. Norman Mines performed a pit maneuver which turned the ambulance sideways. At that point, Deputy Jeremy Casey pulled behind the ambulance, which is when Blevins allegedly shifted to reverse -- backing into the cruiser. Then, Sgt. Phillip Muncy pulled in front of the ambulance to completely block it off. Mounts said it was at that time, that Blevins tried to run down another cruiser to try and break away from the hold.