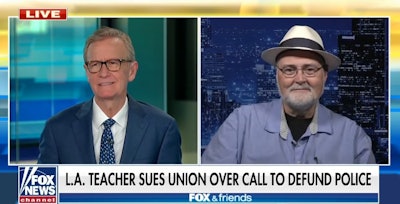 A California teacher is suing a Los Angeles teachers union over political 'rhetoric' and calls to defund the police.
On Friday, during an appearance on "Fox & Friends," Glenn Laird said he was "concerned" and "upset" that the union was engaging in politics that could potentially endanger teachers and students.
"I was very concerned when the call to defund the police came out," Laird told Steve Doocy. "It just seemed like it was something that was not really what we as a union should be doing.
Laird claimed he had seen numerous incidents of violence on and near the high school campus, including stabbings and assaults. Laird's concerns about campus security culminated when one of his former students was shot and killed on school grounds.
Just last year, United Teachers Los Angeles, a teachers union in the area, released a research paper on steps needed to safely reopen public schools and expressed the need to free up additional funding by defunding the police.