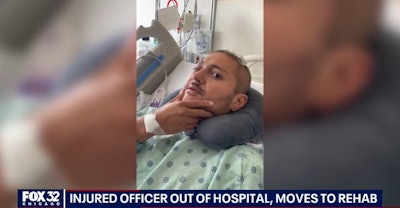 A little more than two weeks ago Chicago Police Officer Carlos Yanez Jr. was shot twice in the head during an attack that killed his partner, Officer Ella French. Yanez has been moved out of the hospital and into a rehab facility to continue his recovery.
"My son is improving a little bit every day," said Carlos Yanez Sr., the wounded officer's father. "Thank God and the prayers are working."
Two brothers are now charged with shooting and killing officer French and putting two bullets in the head of Officer Yanez, Fox 32 reports.
One went through his eye-socket and became lodged in his jaw. The other remains lodged in his brain, so close to a major artery that doctors are afraid to try to remove it.