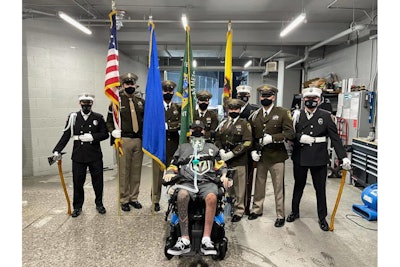 Las Vegas Metro Police officer Shay Mikalonis, who was gravely wounded when he was shot in the head during an anti-police protest last summer, made a public appearance at a charity hockey game Friday night at City National Arena.
The "Play for Shay" game was part of the Injured Police Officers Fund's "Pray for Shay" fundraiser.
Mikalonis, a longtime hockey fan, was honored at the game by the Las Vegas Metro Honor Guard, the Review Journal reports.
"While the road to recovery can be long, we are by your side Shay," the Metropolitan Police Department wrote in a Facebook post Monday, adding that all money raised during the event went directly to Mikalonis. "He's making incredible progress since he was shot in June 2020."
Mikalonis was shot following a demonstration in downtown Las Vegas on June 1, 2020. He was paralyzed from the neck down and spent months at a rehabilitation center before coming home. He has required 24-hour care and breathes with the assistance of a ventilator.
A suspect is in custody facing an attempted murder charge.