The true spirit of a law enforcement professional is felt whenever they put on the uniform. There is perhaps no greater symbol of pride that an officer can project than donning their uniform and displaying their badge.
The Network of Uniform Manufacturers & Distributors (NAUMD) has been honoring public safety departments for decades by recognizing their professionalism with the Best Dressed Public Safety Department Award program. The award lets officers, departments, municipalities, and the public know that well-dressed professionals are on the job representing their communities proudly while maintaining law and order.
The NAUMD is inviting your department to submit for a Best Dressed Public Safety Department Award for 2022. The process is easy. The rewards are great, for the officers, the department, and your community. All you need are pictures and to answer a few questions about the program. For 2022 you can even submit a division or unit by itself, such as K-9, bike patrol, etc. Take a look at the guidelines and submit for an award here: https://naumd.com/awards/about/
Here are five examples of winners from recent years with descriptions of what they are wearing.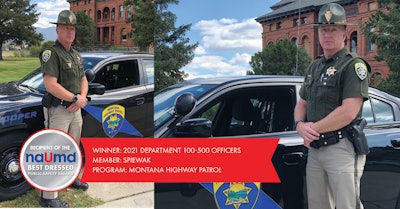 2021—Montana Highway Patrol
Montana has extreme weather conditions, ranging from very cold winters, hot summers, and everything in between. The Spiewak uniform program provides options that meet the demands of these various weather conditions while maintaining a consistent and professional appearance. There are multiple options available to all troopers, with the Class A uniform being the foundation of the program. A Class B mimics the appearance of Class A but includes additional features for comfort and performance. Examples include trousers with hidden internal cargo pockets for added functionality, a long sleeve shirt made from a lighter fabric, and a short sleeve version that incorporates mesh sides for greater comfort and range of motion.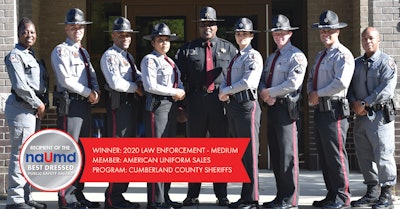 2020—Cumberland County (NC) Sheriff's Office
The Cumberland County Sheriff's Office wears nine different uniforms, all with subtle variations based upon job specifications. The department recently transitioned to a lighter-weight dress shirt with reflective material that includes concealable pockets, gussets, hash mark patches on the sleeves that added a visual representation of years of service, and duty pants with an expandable waist. The changes resolved safety issues by making a cooler uniform, and by adding concealable pockets for both deputy and detention officers.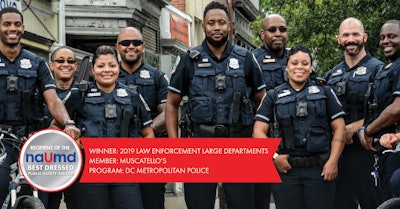 2019—Metropolitan Police Department of DC
After decades of wearing light blue uniform shirts, the Metropolitan Police in 2019 made the change to navy blue. The switch was more visually appealing as well as functional. Before, officers wore their vests underneath the shirt keeping the uniform visible. But that resulted in excessive sweating, and in some instances, rashes. The new uniforms, manufactured by Blauer and distributed by Muscatello's, featured hidden, internal suspenders to more evenly distribute the weight of the gun belt, easing back pain. In an added plus, the garments were washable.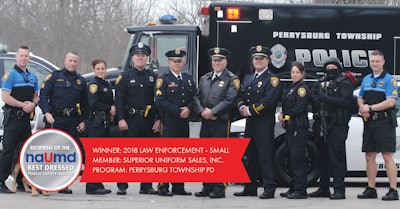 2018—Perrysburg Township (OH) Police Department
Perrysburg Township Police Department overall wears six different types of uniforms. The everyday duty look consists of navy blue, 100% polyester woven shirts by Elbeco with PTPD emblems sewn onto both sleeves. Polyester/rayon shirts by Flying Cross were typically worn during the winter months for added warmth. For outerwear, officers have the choice between a standard Blauer Gore-Tex and Taylor's Leatherwear jacket in addition to a Spiewak high-visibility raincoat. A variety of navy blue Elbeco base layers and 5.11 fleece caps are worn by the officers in cold temperatures. Kudos to Superior Uniform Sales for producing this award-winning look.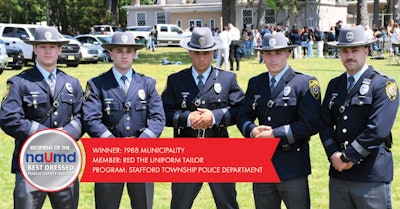 1988—Stafford Township (NJ) Police Department
″We stand for spit and polish,″ then-Chief Larry D. Parker, a former military police officer, said at the time. Stafford Township, with 37 officers and 10 uniformed, civilian dispatchers, took the award for the best-dressed municipality with under 200 officers. The department's uniform consisted of slate-gray trousers and a midnight-blue shirt with matching epaulets and chrome buttons. All-leather accessories, including the belt and holster, were made of an intricate basket-weave design. A slate-gray Stetson hat completed the outfit.
Each year the NAUMD recognizes multiple public safety agencies, the above were only examples. The manufacturer and distributor members of the NAUMD are proud to assist departments with their apparel and equipment needs. They take their role of supporting officers seriously. These awards are but one way they can help law enforcement professionals honor that sense of pride felt when wearing a uniform.
Rick Levine is the executive director of the Network Association of Uniform Manufacturers & Distributors (NAUMD). He can be reached at rick.levine@naumd.com