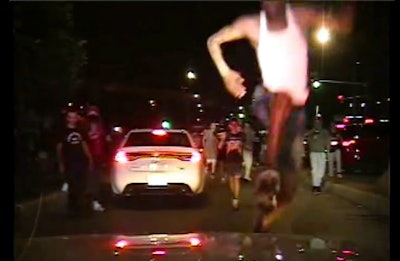 The Illinois State Police (ISP) released dashcam video of a large mob swarming a trooper's car in Chicago and shattering the windshield with the trooper inside.
The trooper was driving southbound on I-90 just before 2 a.m. Sunday and noticed congestion on an exit ramp and eastbound traffic on a nearby street completely stopped. When the trooper approached a nearby intersection, he found several vehicles blocking the streets and people engaging in reckless driving stunts.
At that time, people from a mob of about 100 began to swarm the ISP trooper's squad vehicle, jumping on the hood, breaking the windshield, kicking the vehicle, and throwing rocks, bricks, and fireworks.
"This type of dangerous behavior puts the general public at risk and will not be tolerated. ISP is fully investigating the incident, including deploying crime scene evidence technicians," the agency says in a social media post. "If you see this type of behavior, immediately leave the area and contact law enforcement."