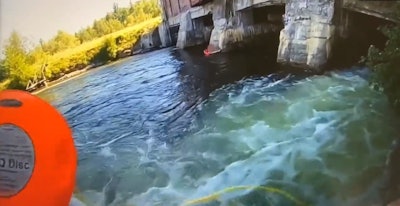 Michigan State Police have released body-worn camera (BWC) video of when a trooper and a firefighter rescued a young swimmer in distress at the base of a dam Aug. 11.
Troopers from the Alpena Post were dispatched to the Four Mile Dam in Alpena Township for a report of a 10-year-old swimmer in distress. Once the trooper arrived, he saw the boy caught in the current at the base of the dam and clinging to the structure.
Trooper Nicholas Talbot retrieved a ResQ Disc and personal flotation device (PFD) from the rear of his patrol vehicle and ran to the edge of the stream, unrolled line off the disc, and tossed the disc to the child.
"When you get it, wrap it around your body," the trooper instructs the child. "I just don't want you to let go, okay. Wrap it around you and hold on really, really tight."
The disc looped over a handrail above the child, but the boy then secured himself to the rescue device in the river. An off-duty Wilson Township Firefighter, Christopher Kinsey, used the trooper's PFD to swim to the distressed swimmer and escorted him to shore.
After being rescued from the water the boy was assessed by paramedics with the Alpena City Police Department. Uninjured, the boy was free to go home.
Alpena County: 10-year-old boy rescued from rushing waters at Four Mile Dam in Alpena Township. https://t.co/SK9jt2dEGY pic.twitter.com/Fp29bN2v3D

— MSP Seventh District (@mspnorthernmi) August 17, 2022