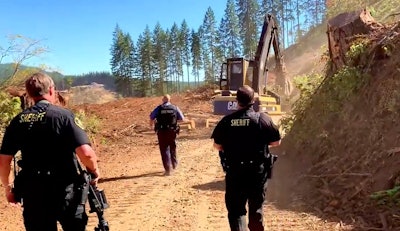 Deputies in Washington County, OR, spotted a man they knew had active warrants and as they approached, he tried to outrun them on an excavator Sunday.
Deputies and Oregon State Police found Jesse B. Shaw, who had three warrants for his arrest, driving an excavator and gave him verbal commands to stop, reports KATU. But, instead he tried to flee from officers while continuing to drive the excavator.
The sheriff's office reports Shaw drove the excavator more than a half mile, with officers following behind on foot, before stopping.
His warrants included three for delivery of methamphetamine, one for attempting to elude, and one in connection with a state parole board violation. Officials also were trying to arrest him in connection with a car that was stolen the day before, the sheriff's department reports.
Deputies knew Jesse B. Shaw had three warrants and was wanted for stealing a car. They found him at a property north of Banks, driving this excavator and he ignored commands to surrender. Shaw drove the excavator over half a mile with deputies following on foot until he stopped pic.twitter.com/JUp631wL4O

— Washington County Sheriff's Office (Oregon) (@WCSOOregon) August 15, 2022