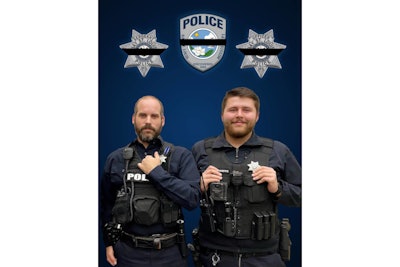 Two Bay St. Louis Police, MS, officers were killed after responding to a welfare check call early this morning at the Motel 6. The police department has identified the officers as Sgt. Steven Robin and Officer Branden Estorffe.
Around 4:30 a.m., the two officers answering a call for service at the Motel 6 encountered an armed woman, reports WLOX. Officials say the woman shot both officers before killing herself.
One officer died at the scene, while the other was treated for wounds and later died.
Amy Brogdon Anderson, 43, was identified by the Mississippi Bureau of Investigation as the woman who fired the shots before she died of a reportedly self-inflicted gunshot wound to the chest, the Sun Herald reports. A child under the age of 10 was with Anderson in a brown Toyota Highlander. Anderson was reportedly a veterinarian in Ocean Springs, MS.
The officers had talked to Anderson for about a half hour, during which a call was placed to child protective services, according to the preliminary investigation.
"The Bay St. Louis Police Department, as an agency in mourning, sadly reports the death of Sgt. Steven Robin and Officer Branden Estorffe, both killed in the line of duty during the morning of Dec. 14, 2022," Chief Toby Schwartz said in a press release, according to the Sea Coast Echo. "This tragic loss is a sad day for the Bay St. Louis Community and law enforcement."
The Mississippi Bureau of Investigation is investigating and gathering evidence. Officers from Bay St. Louis, Waveland, Diamondhead, Hancock County Sheriff's Office, and the Mississippi Highway Patrol also responded to the scene this morning.
"Our condolences go out to the men and women of the Bay St. Louis Police Department, all law enforcement officers affected by the tragic series of events that transpired this morning, and the families and loved ones of the two fallen officers that made the ultimate sacrifice," Hancock County Sheriff Ricky Adam said in a social media post Wednesday. "No words can adequately express the sympathy we would want to convey, but we offer up our many prayers for healing."