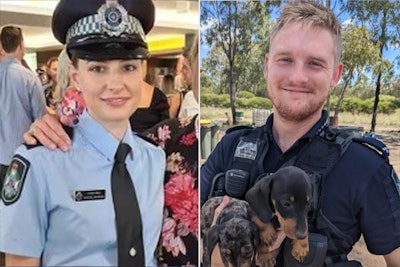 Two Queensland, Australia, police officers were killed and a third was wounded during ambush attack in the rural town of Wieambilla Monday. Three suspects and a neighbor were also killed in the incident.
The officers were called to a home in the remote Australian region almost 200 miles from Brisbane at 4:30 p.m. Monday to investigate a missing person, People reports.
Tara Police Station Constable Matthew Arnold, 26, and Tara Police Station Constable Rachel McCrow, 29, were then "shot by two armed offenders as they approached the residence on the property," Queensland Police said.
A third officer suffered a "bullet graze" and is currently being treated in the hospital, police continued, while a fourth escaped without physical injury.
A neighbor also died in the ambush after going to investigate the situation, Queensland Police confirmed Tuesday.
Two men and a woman aged in their mid-40s were fatally shot by a tactical police team at the scene around 10.30 p.m.
According to the BBC, the uninjured officer was a rookie patrolman who survived by finding cover in scrub and messaging her loved ones for help.
The suspects then tried to lure her out by lighting a fire so "she did not know whether she was going to be shot, or she was going to burnt alive," Queensland Police Union president Ian Leavers told the Australian Broadcasting Corporation (ABC).
Nathaniel Train, a former school principal, and his brother Gareth Train were killed in a gunfight with police. Stacey Train, Gareth's wife, was also killed. The report of the missing person involved Nathaniel Train. Police are investigating whether the officers were lured into the ambush.
Investigators are now looking into Gareth Train, who frequently contributed paranoid posts to conspiracy blogs. According to the Guardian, he expressed distrust of police and believed the 1996 Port Arthur massacre – the mass shooting that resulted in Australia's stringent gun laws – was a "'false-flag operation."