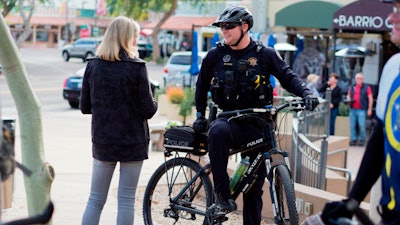 When police departments strive to increase community engagement, many often encourage officers to get out of their patrol vehicles and talk to people. That interaction, however, comes naturally when the officer is on two wheels during bicycle patrol. Large or small, any size agency can begin patrolling on two wheels.
International Police Mountain Bike Association President David Millican is an instructor and knows the value of putting pedal power and cops together. When IPMBA began, his department was one of the founding members. Millican is a detective with the Denton Police Department (TX) and logged many years atop a bike.
He began policing in Denton in 1999 and around 2002 completed his first basic bicycle officer course at his department. For several years after that, he worked bike patrol on a part-time basis. In 2007, he became involved with IPMBA, became an instructor, and started teaching police cyclist courses. From 2007 to 2019 he was part of the bike unit in the downtown entertainment district. The department still has a bike patrol team with five officers on during the day and five at night. There are additional Denton officers who can also, on a part-time basis, patrol in their normal assigned areas on bikes.
"You get outside the patrol car, you get exercise. You get to interact more with people than you do if you're sitting in a squad car with the windows up, air conditioner on, and the radio going," Millican explains while talking about what he loves most about bike patrol.
Starting a bicycle unit can be as simple or as elaborate as a department chooses.
"I think any size department can do it, from the very small department to the very large departments. Sometimes there's less red tape in the smaller departments than the larger department. But it works for college campuses, it works for large departments, small departments, all the same."
While some departments may create a bike patrol unit where officers serve full time on two wheels, that is not always the case. Millican estimates that the majority of bike officers are regular patrol officers that can exit the patrol car and transition to two-wheeled patrol in their areas.
"They're officers that have regular patrol duties and they have it on a bike rack on the back of their car and they take it with them. When the call load is a little lighter, then they can take the bikes off and then do different patrol duties with the bikes."
While it is true that patrolling by bike allows officers to more easily interact with citizens, there are other advantages as well. Patrolling on two wheels opens the officer up to discovering much more about the part of the community they patrol from a new perspective.
"You get to know your area and you get to know areas around apartment complexes that you don't get familiar with because you're constrained to the squad cars. You get to learn the travel routes where people are walking and where they're cutting through the neighborhood. You can get to know the kids as they walk home from school because they always cut through streets, things like that," he explains.
That added knowledge is great, but the main advantage Millican says he would share with someone considering starting a bike patrol is still the way it enables officers to better reach the people in the community.
"Community engagement is the biggest advantage," he says. "The community can see you out in the public, see you on the bike. You're more friendly to them, you're more engaging to them, they're more willing to come up and talk to you. They talk to you about the bicycle because everybody has a bicycle back at home. So it gives them something to then talk to you about."
A while back, Smith & Wesson produced patrol bikes. People knew the Smith & Wesson brand, but they didn't know the gun maker was producing police bicycles.
"It was something that was unique and interesting, and it started conversations that you'd never imagine would have occurred," Millican adds.
It can be a very physical activity and officers do need to stay in shape, but Millican says being in top-tier condition is not a prerequisite for becoming a bike officer. He points out it is something you just start doing and along the way get in better shape while also improving your cycling skills. Proper training starts rather simply and builds upon each newly acquired skill to get officers increasingly proficient.
"We start from the very basic, as far as how do you put your helmet on, this is what a pedal is, this is what pedal retention is, and this is how you disengage from pedal retention. This is how you get on a bicycle. This is how you dismount from a bicycle. We try to keep it very simple and efficient in that manner and build on it," says Millican.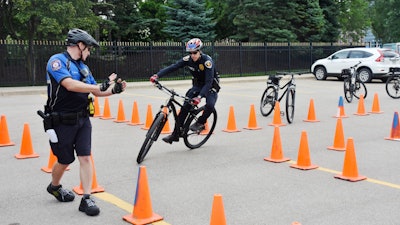 Later during training, bike officers learn more tactics such as how to get off the bike when it is moving, how to engage a citizen, or how to engage a perpetrator who may be trying to evade them. But, the training at times turns to speed – slow speed. Being able to skillfully ride a bike at slow speeds is vital for patrolling through festivals, events, and crowds, at a slow pace.
"We have a slow box, where we set up cones in a 10-foot square. The officers go into that 10-foot square, and they go around and circle three times. Well, how do you do that? We break it down into pedal pressure, weight, transfer, the steering mechanism, and weight movement so they can understand it and be able to then go around three times and come out without putting their foot down," explains Millican.
"There are so many different ways that officers can utilize a bicycle in law enforcement," he says. "If someone's interested in doing it, they just need to get out and do it. Get the training, get the equipment, and get out and start doing it."
Drawing from his background as a bike patrol officer, his experience as an instructor, and his role with IPMBA, Millican has provided 10 tips for any agency wanting to start a bike patrol. Those tips are:
1. Pick the Right People
Cycling enthusiasts may or may not be the best candidates; a good bike cop has to be much more than a skilled cyclist. Potential bike officers should be proactive and self-motivated, and they must get along well with the public. The ability to interact with a wide range of people is important. As IPMBA founding member Kirby Beck said, "Most good candidates can be taught to ride police bicycles correctly, but the inner drive and motivation of a good, hard-working, community-oriented officer can't be taught. They either have it, or they don't." An effective bike officer is focused on the quantity and quality of citizen interactions, not speed and distance covered. Bike officers are very approachable, so they have to be willing and able to slow down, stop, and engage in conversations along the way.
2. Establish a Realistic Budget
There are expenses associated with establishing a bike unit. In comparison to patrol car officers, bike officers do cost less to fully equip. This mindset should not prevent you from properly budgeting for a bike unit. Allocate funds to equip a bike unit with high-quality equipment that lasts, which costs less in the long run. Good quality equipment also prevents injuries and encourages officers to spend more hours on bike patrol. Be sure to include funds for maintenance, bike storage, and other ancillary expenses beyond the initial start-up cost.
3. Pick the Right Bicycles and Bike Shop
Purchase only high-quality bicycles from reputable manufacturers, preferably ones designed for patrol work as they are built with durability in mind. Make sure each rider has an appropriately sized bicycle and a comfortable saddle. Develop a relationship with a local bike shop that will handle preventive maintenance and repairs. Ask the bike shop to prioritize department bicycles whenever possible so they can return to the road in a timely manner.
4. Outfit the Officers in Bike-Specific Uniforms
Bike officers will be exposed to the elements, so make sure their uniforms are suitable for the climate. They need to be protected from everything, from the extreme summer heat to the cold winter wind. Officers will need shorts, long pants, both short-sleeved and long-sleeved shirts, rainwear, and jackets. Uniform materials need to be constructed of breathable, wicking material because a bike officer will build up heat and sweat, even in cold weather. They also need to be designed for comfort while cycling with features such as articulated knees in trousers, pit-zips in jackets, and long shirttails to ensure they stay tucked in. Other design factors to consider are style (Class A or polo/golf style shirts) and visibility (high versus low, for stealth). Bike uniform shirts and jackets must have some degree of retro-reflective material, especially on the back, to ensure the officers can be seen by motorists.
5. Provide and Require Essential Safety Equipment
IPMBA mandates several pieces of equipment to enhance safety and reduce the risk of injury. These items should be issued to officers, and officers should be required to utilize them. In addition to a high-quality public safety bicycle, each officer must be provided with a properly fitted helmet, approved by Snell, ANSI/ASTM, CPSC, CSA, or equivalent. Officers should be issued shatter-resistant protective eyewear for both day and night patrol activities. Pedal retention is also a must. Public safety cyclists routinely ride over obstructions and obstacles. To stay connected to the bicycle, the rider must be outfitted with toe clips, pedal straps, clipless pedals, or flat pedals with appropriate footwear to engage the flat pedals. IPMBA also recommends wearing cycling gloves to provide cushioning for the hands and prevent abrasions in the event of a fall.
6. Don't Skimp on Training
Riding a bike on patrol is not "as easy as riding a bike." Bike officers ride in a wide range of conditions – often less than ideal – and have to pay close attention to their surroundings as they patrol on their bicycles. Think of it as EVOC for bicycles; just because someone knows how to drive doesn't mean you can just hand them the keys to a patrol vehicle. The same goes for bicycles. Bike officers should be required to successfully complete a standardized public safety bicycle course (e.g., IPMBA) before being deployed on a bicycle. And training shouldn't end there. The public expects public safety personnel to possess a high level of training and expertise, so an ongoing program of in-service training and recertification should be established and followed.
7. Establish Policies and Procedures
Clearly written policies and procedures will enable a bike unit to function more successfully. A general order should first define the purpose and scope of bike patrol. It should also incorporate the potential for future growth. It should address such topics as training, uniforms, equipment, qualifications, responsibilities, patrol parameters, and more. The International Police Mountain Bike Association partnered with the International Association of Chiefs of Police to create a bike patrol model policy, but every department is unique and your policy should be specific to the department. The model policy (IPMBA example) can be used as a blueprint only. Subscribers to the IACPNet also have access to a wide array of actual bike patrol policies.
8. Develop Deployment Strategies
In order to maximize the potential of bicycle operations, it is necessary to develop strategies according to departmental priorities. Consider when and where the bicycles will be deployed: routine patrol, special events, entertainment districts, business or residential, campus, etc. A bike unit may be used on a part-time or full-time basis and on a call-driven basis or as a stand-alone unit not responsible for responding to calls for service. Identify what you hope to accomplish by having bike officers on duty: community engagement, traffic enforcement, stealth operations, crowd management, etc. Deployment decisions should be made based on departmental resources and the needs and expectations of the community. One of the most important aspects of deployment strategies is gaining the public's feedback so that your unit can continue to grow and serve.
9. Don't Limit the Duties of the Bike Officer
Don't place too many limitations on the duties of the bike patrol officer, such as just special events, community policing, or targeted patrol. The duties of a bike patrol officer should include general patrol and response to calls for service in their assigned area. As with other patrol vehicles, the primary function of a bicycle is transportation. Within reason, bike officers should be able to respond to most calls for service. Sometimes they can even be the first on-scene because of their mode of transportation. Requiring bike officers to respond to calls for service when available will help reduce the perception that they are too elite to respond. Also, not placing too many restrictions on bicycle operations will make it easier to adapt to changing priorities.
10. Get Your Community Involved
One of the best ways to ensure longevity and success is to solicit community involvement. Let your community members know about the bike patrol and the ways in which it benefits them. Let your businesses know as well; they can be a source of donations to help fund the unit. Be a visible presence and spend your shift talking to people. Go out of your way to be helpful. And be sure to show off your unit at every community event possible. It is a great way to bridge the gap and improve police/community relations.