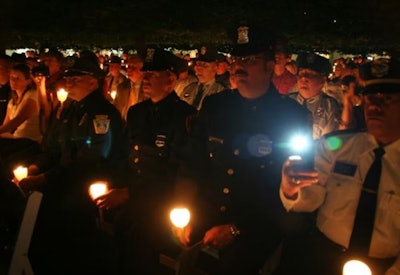 This week is National Police Week—a time to honor and remember law enforcement's service and sacrifice. The last few years have been tough on police—rising crime, fewer officers on duty, declining morale, and more line-of-duty deaths, for starters. A once-a-year nod to what they do for us is the least we can do.
After four decades of advocating for law enforcement officers as the founding CEO of the National Law Enforcement Officers Memorial Fund, and now Citizens Behind the Badge, I am a private citizen with a unique perspective on men and women who serve in the profession. I have gone on ride-a-longs and seen the squalor they encounter every day. I have observed first-hand the bravery shown routinely by police when arresting violent felons. The surviving spouse of a fallen officer once told me about a homeless man who came to her husband's funeral to pay his respects. Unbeknownst to his wife, her husband had stopped to check on the homeless man every night before going home. This is what our police officers do when nobody is looking (or filming).
Last Christmas two Maryland state troopers, Matthew Hughes and Samuel Rogers, raised nearly $5,000 to purchase Christmas gifts for three young children whose parents were tragically killed in an auto crash. A nice thing to do, but pretty typical when it comes to our police.
In April, Utah Highway Patrol Sergeant Chad McCoy spotted a vehicle going the wrong direction on an interstate highway. Recognizing the deadly danger this posed to other motorists, his training and instincts kicked in and he crashed his patrol car into the wrong-way pickup truck, undoubtedly saving many innocent lives—while risking his own. Who does such things?
While our law enforcement officers may not be perfect, there are some who are over-zealous in their efforts to find something wrong with law enforcement at the expense of all that is right. Our officers will always be under a microscope and held to a very high standard. The reason is simple and understandable—a man or woman wearing a badge and carrying a gun can change or take another person's life.
That is why the current mass exodus of veteran officers and the failure to recruit qualified replacements is so troubling. According to a recent survey by the Police Executive Research Forum (PERF), there were 50% more officer resignations in 2022 than in 2019, and officer retirements during that same period were 20% higher. PERF has also reported that three out of every four police departments nationwide have experienced a decline in new officer applicants over the last five years. Our nation now has fewer law enforcement officers per resident than at any other time in the last quarter century.
Many departments, like here in our nation's capital, are desperately trying to fill their thinning ranks by offering signing bonuses up to $25,000 for new recruits. Other departments, like in New York City, have turned to lowering some of their standards for new recruits. Bribing the uninterested or welcoming the unfit does not bode well for the future of such a vital profession.
More than 800,000 officers put their lives at risk every day for our safety and our protection. Officers make about 10 million arrests annually and have a total of roughly 60 million interactions with the public each year. Yet, force is used by officers less than 2% of the time. And misconduct by officers occurs only 1% of the time, according to those who had a police interaction in 2020.
Law enforcement officers typically encounter between 400 and 600 traumatic events during their careers, compared with three or four for the average citizen. This has contributed to a 54% higher suicide rate among officers than among other American workers.
Last year, 331 officers were injured or killed by gunfire. Over the last two years, more than 800 officers died in the line of duty—the most ever in U.S. history. One of the reasons for the high death rate in law enforcement for the last two years was the job brought so many officers into contact with COVID-19 and many of these officers contracted the deadly disease.
In 1991, when we dedicated the National Law Enforcement Officers Memorial, there were 12,561 names inscribed on that monument. We thought it would be 100 years or more before we would ever run out of space. We were wrong. With 556 new additions this year, there are now 23,785 names on the Memorial and the walls have already been expanded for the thousands of other fallen American heroes who will die protecting our communities in the future. We owe all who have served and sacrificed, along with their families, a huge debt of gratitude—during National Police Week and every week.
Craig W. Floyd is the Founding CEO Emeritus of the National Law Enforcement Officers Memorial Fund and the founding CEO of Citizens Behind the Badge.