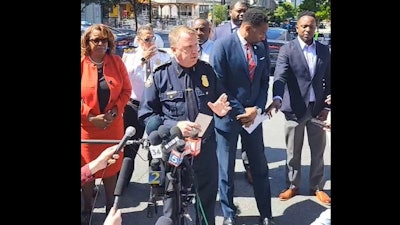 Multiple law enforcement agencies in and around Atlanta were working together Wednesday afternoon to locate the man suspected in the earlier shooting that killed one and wounded four at a healthcare facility.
City of Atlanta Police Chief Darin Shierbaum said police are looking for 24-year-old Deion Patterson, who he believes is armed and dangerous.
"We are following up on credible leads that are currently active in Cobb County, as well as some that are right here in the city. We have been joined by multiple jurisdictions. We have the sheriff of Fulton County that is here right now, Georgia Tech PD, Georgia State University PD, MARTA PD, the Georgia State Patrol, the GBI, the FBI, the Secret Service, as well as the Atlanta Public Schools. Police are all actively involved searching as we speak for Mr. Patterson," Shierbaum said during an afternoon press conference.
The chief explained how at 12:08 p.m. today, police were called to a Northside Hospital location, where a shooting had occurred inside a waiting room. Five individuals were shot, including a 39-year-old female who died. The additional victims, all women, are ages 71, 56, 39, and 25.
"We do know that Mr. Patterson, our suspect, left the building. We believe he carjacked a vehicle a short distance away and was able to flee the scene as the law enforcement agencies were descending on this area, and we believe has left the area," Shierbaum said.
He further explained that the vehicle had been recovered, but police have located neither the suspect or the firearm used in the shooting. Shierbaurm said it is still too early to know why the five victims where selected and targeted.